Marketing Services
By owning property along the Grand Strand, you have property in one of the most popular vacation spots in the United States. It deserves to be marketed that way, and that's precisely what Beach Vacations vows to do. Every property on our program is put front-and-center for millions of prospective travelers. We achieve this through an aggressive and multi-faceted marketing strategy.
Dedicated in-house company websites: Our professionally-designed company websites offer beautiful and state-of-the-art booking portals for guests. Our websites are constantly evolving ensuring your property is represented using the most current technology available. Some of the website features available include:
Real-time booking capability with a rotating slate of special offers.
We believe your property should be a destrat calendar.
High-resolution photography that pops off the screen.
Mobile-optimized formats that are maximized for tablets and smartphones.
Detailed descriptions of all available units and property types.
Dynamic content including blogs and links to social media.
Vigorous search engine optimization to ensure high placement within Google, Yahoo and Bing.
Aggressive pay-per-click campaigns, furthering our websites' reach online.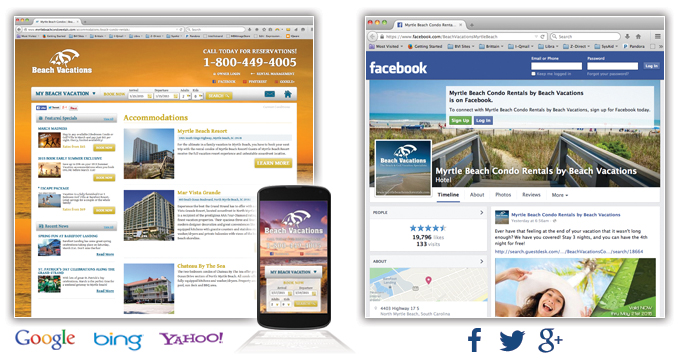 Innovative electronic, print and social media marketing strategies: The Grand Strand is a competitive vacation market, and a partnership with Beach Vacations puts your property at the top of the list for future guests. From eye-catching physical mailers and electronic marketing messages to a dynamic and interactive social media presence, we are continually reaching out to potential travelers to publicize your property.
Over 1.5 million electronic marketing messages sent to prior and potential travelers annually.
Over 250,000 annual and special event mailers distributed yearly.
Highly-interactive social media presence with tens of thousands of followers across Facebook, Google+ and Twitter.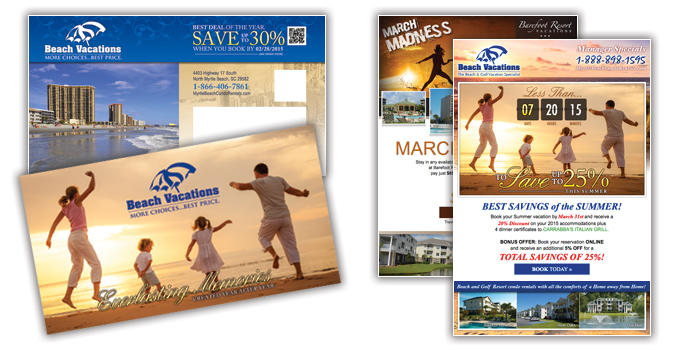 Partnerships with the industry's leading Travel and VRBO websites: To coin a golf phrase, our agency utilizes every club in the bag to gain bookings. Our relationships with online travel agencies, travel websites and VRBO (Vacation Rental By Owner) websites are a lucrative source of year-round reservations. This results in a global presence for our partner properties. These sites also heavily utilize mobile booking capability, which is consistently a larger source of reservations and increasingly convenient for modern travelers. Our online travel partners include: